Volt Banking for Teens (13-18 Years Old)
Enjoy high-voltage bundled checking and savings accounts that allows teens to take charge of their money.
Building Smart Financial Habits
The Volt Account for Teens is designed to assist teenagers develop money management experience, while protecting them against common fees. Personal finance requires practice — and what better way to practice smart financial habits than with a Teen Volt savings and checking account. Teens learn how to spend, save, transfer and manage their accounts from their mobile device.
We believe in financial literacy and offer periodic online and in-person educational courses throughout the year. There are many new and exciting experiences that come with a checking and savings account. We are proud to stand by our Volt members, offering education and support every step of the way.
Checking Account
Develop smart financial habits with a Teen Volt checking account, free debit card, and no overdraft fees.
Savings Account
Watch your savings add up quickly by earning 3.00% APY on balances up to $1,000*.
Get
MORE

with Teen Volt Accounts.

Education is everything. In addition to empowering teenagers to save money with no fees and develop strong money management skills, we explain how Online Banking works. We walk them through how to best utilize our products and services, building smarter spending and saving financial habits.
MORE SAVINGS & EARNINGS:
A savings account can add up quickly for members by earning 3.00% APY* on savings balances up to $1,000.
No overdraft fees - we mean it. The Volt Teen Banking Checking account for members ages 13-18 is more than totally FREE checking. There are no overdraft fees. Really.
At age 16, Volt members can apply for a Visa Rewards Card. This card will have a sensible credit limit and a low interest rate, and will let you start building up rewards points that never expire. But just so your parents aren't worried about it, we do require a co-signer until age 18.
MORE CONTROL:
Send money to friends with Zelle. Pay friends through the Arbor Financial mobile app. There's no need to download any other software or third-party app, we've got it all right there for you.
Quick balances: Set up quick balances so you can see what's in your account without having to log in.
Money transfers:

Easily receive funds from your parent's account

.
ATM Access: Your Volt Teen Banking debit card will let you use over 30,000 CO-OP ATMs anywhere, for free, across the nation. Locate a surcharge-free ATM today.
MORE EDUCATION:
Periodically, we'll put on events in schools and here at Arbor Financial, designed to explain things like:
How to manage savings & checking accounts
The difference between debit and credit cards
How to set SMART money goals
What is a credit score and why it matters
Budgeting basics
Plus, as a member, you'll be eligible for our annual scholarship program. We are proud to award ten $2,000 scholarships to member high school students to improve their lives through higher education.
MORE PROTECTION:
With the Card Control App, members can decide when, where and how their debit cards are used in real-time.
​You can enjoy convenient features like turning your debit card on/off, receive instant transaction alerts, set card limit usage, and more!
Report your card lost or stolen within the app.
Register your card within the card control app and instantly add your card to your phones digital wallet.
Parents benefit, too.
The Volt savings account not only teaches your teen about financial responsibility, but offers a few perks for the parent or legal guardian as well:
Easy transfers - Quickly transfer funds into your teen's account; no more third party apps or having to shell out cash.
Card protection -Turn the card on and off and designate usage.
Monitor account balance -Set up quick balances to check the savings account balance without logging in.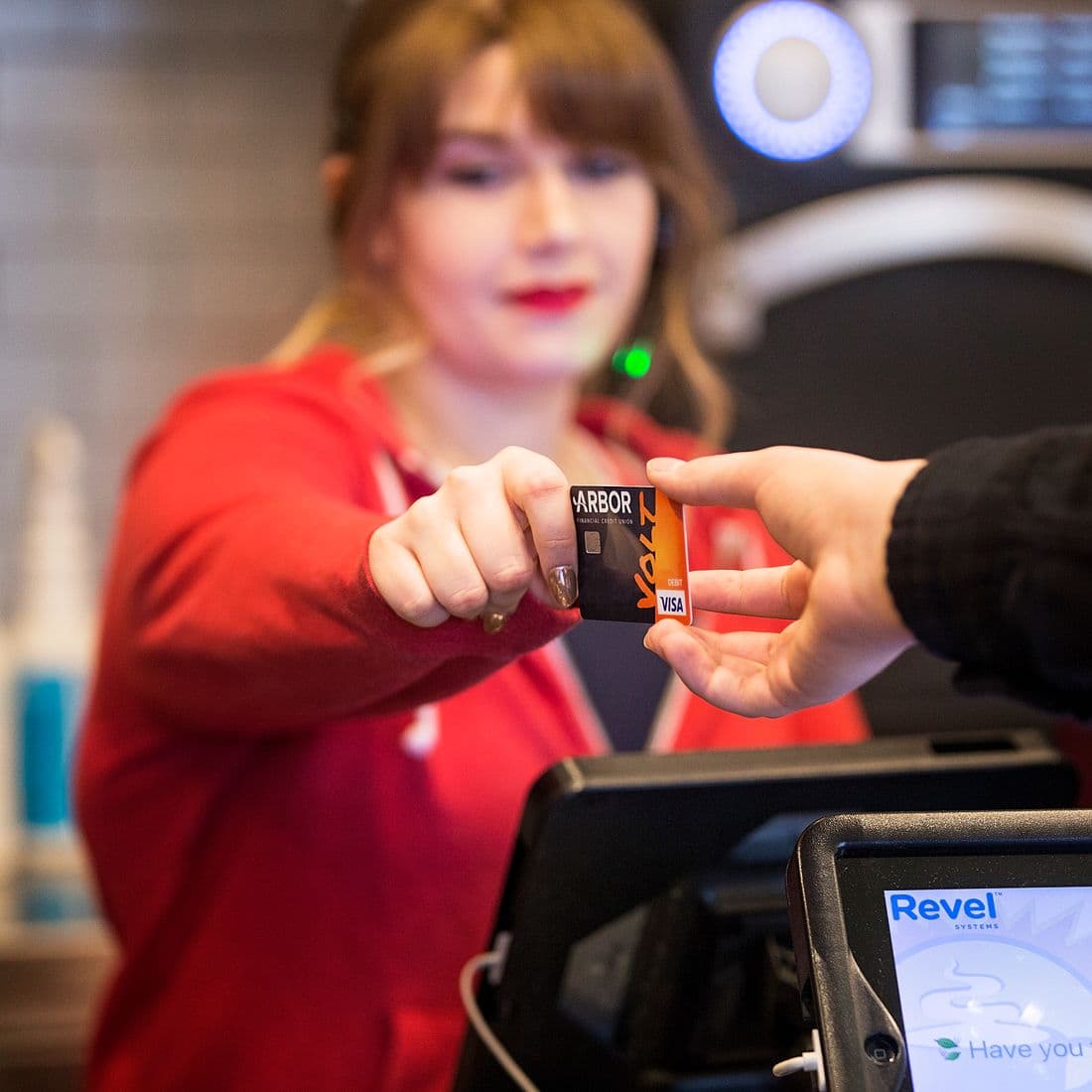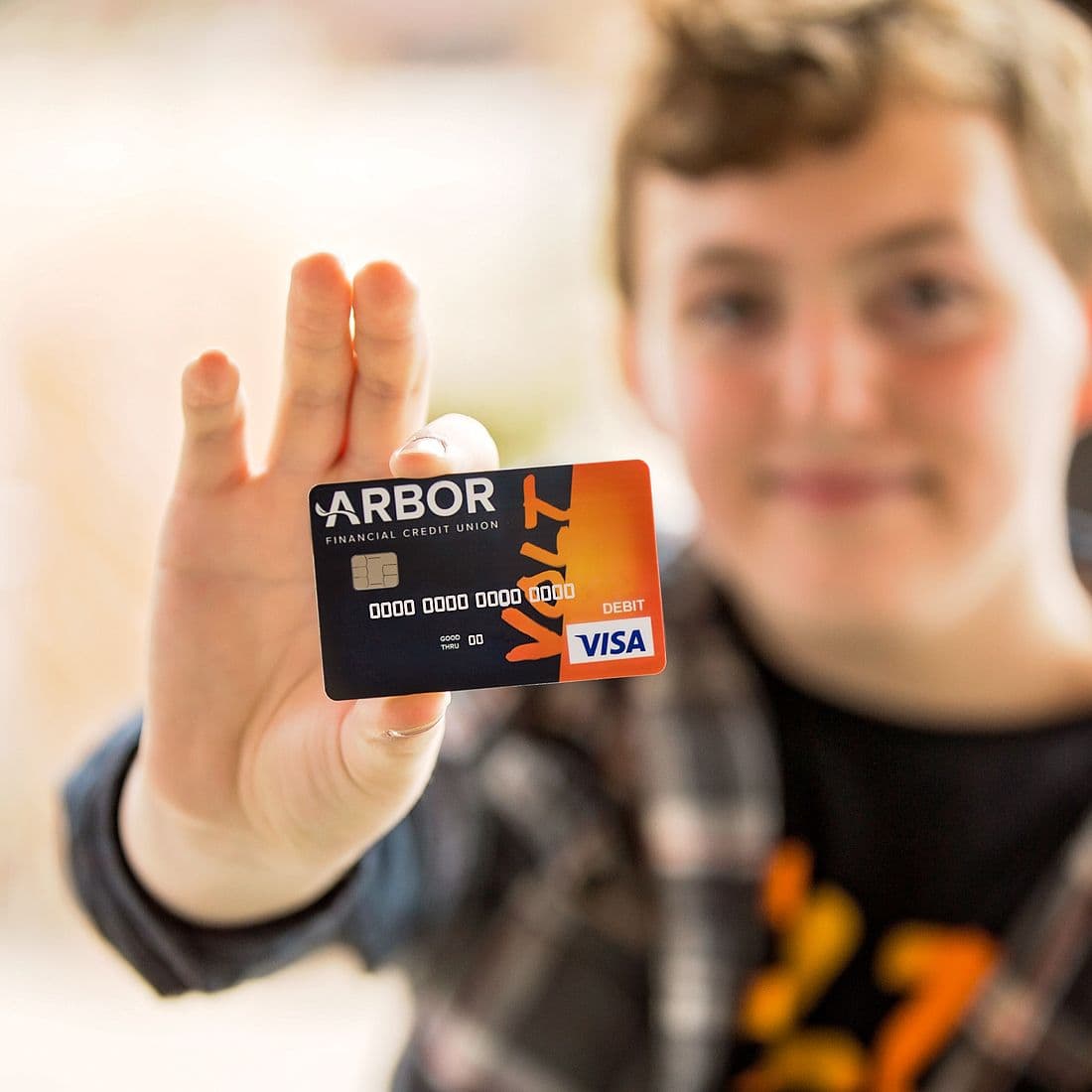 The Volt Teen Credit Card
At 16, Volt members can qualify for a Visa Rewards Credit Card - starting with a credit limit up to $1,000 and low interest rates. Volt members can build up their credit and earn reward points that never expire. *Note: parents are required to co-sign on the account for anyone under 18.
There are numerous benefits to building credit early and mastering the functional difference between a credit and debit card.
Here are some tips and tricks for beginner credit card users:
Pay your bill before it's due so you don't incur interest charges.
Use your credit card to cover minor emergencies (make your monthly payments on time if you can't pay it off in full).
Don't go too crazy. If you don't use your credit card correctly, you can get in trouble with your account (which isn't a good way to start your credit foundation).
Remember, with a credit card, you borrow against your remaining balance and repay it. With a debit card, you pay with the cash immediately in your account. Different cards fit different needs. Practice making smart financial decisions.
Teen Banking FAQs
Here are some of the most frequently asked questions we get about our Volt Teen Checking & Savings Account.
Yes, we issue cards in person that can be used to access the funds in your savings account. This card will not be able to be used to make purchases, just make withdrawals.

Your teen can open a savings and checking account at 13 years old and can maintain this account until 18. At 18 years old, he or she will transition into Volt Banking.

As a parent or legal guardian, you can make deposits, check balances, view transactions, and receive alerts about the status of the account. However, you won't receive a debit card.

Yes, you are required to be a co-signer on the account. Once your child turns 18, they will transition to Volt Banking, for ages 19-24. Alternatively, they can open a traditional savings account. These options don't require you to be a co-signer.

A credit card lets you borrow against a line of credit that you have to repay over time. If you don't pay off your balance, you will accumulate interest each month, meaning you will wind up paying more for your purchase over time. Alternatively, when you use a debit card, it's like using cash. The purchase is deducted from the balance of your account. Overtime, it's good to use both a debit card and a credit card.
*Annual Percentage Yield (APY). The rate of 3.00% APY applies to balances up to $1,000 on Volt Teen Banking Savings accounts. Balances above $1,000 will receive the regular savings rate. Terms and conditions subject to change without notice. Account approval may be based on factors such as a qualified parent, teen's age, and verification of income.
Zelle and the Zelle related marks are wholly owned by Early Warning Services, LLC and are used herein under license.