#Adulting
You're on your own now and over the next few years, your needs, priorities, and plans will change. Volt Banking will change and evolve along with you while helping you build a solid financial foundation with savings you'll be glad to have.
Checking Account
Build good money habits with a Volt Banking checking account with reduced overdraft or ATM fees.
Savings Account
Watch your savings add up quickly by earning 3.00% APY* on balances up to $1,000.
Credit Card
Secure a beginner's low-interest rate credit card with a reasonable credit limit.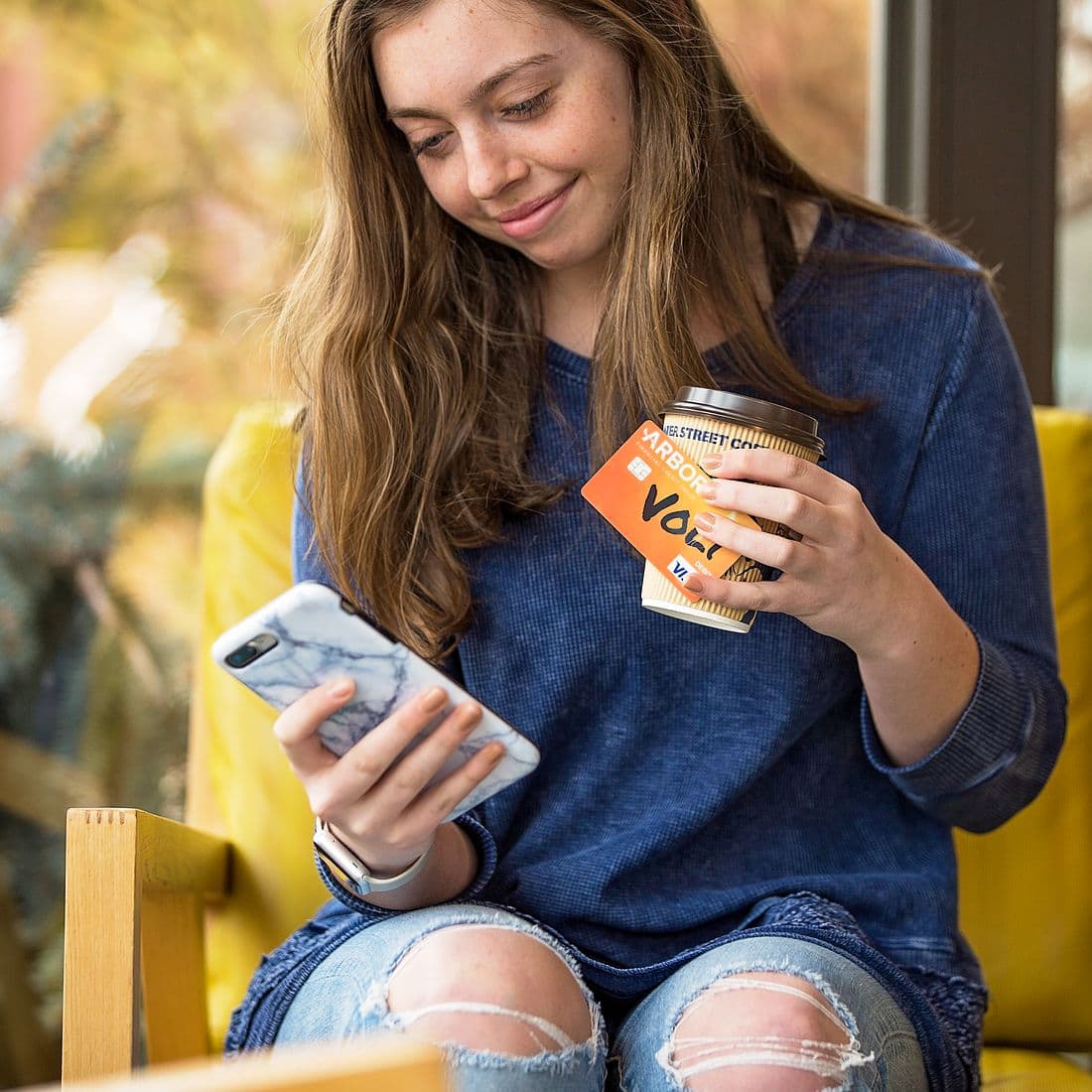 What can Volt Banking do for me?
Plenty. In addition to giving you more control over your money, Volt Banking, a bundled saving and checking account, will help you learn how money management works, provide you with FREE easy access to 30,000 ATMs and help protect you against costly fees.
We've also baked in some great benefits, such as:
Earn a competitive annual APY
It Pays to Save with Volt Banking - Volt members will see their savings add up quickly by earning 3.00% APY* on savings balances up to $1,000.
It's mobile-friendly
Check balances, deposit checks, load accounts into Apple Pay, Samsung Pay, and Android Pay with mobile banking. You live life on the go, so let your Volt Banking Savings Account live it with you.
Pay friends with ease
With Zelle®, you have the ability to pay your friends through the Arbor Financial mobile app. There's no need to download any other software or third-party app; we've got it all right there for you.
Set up quick balances
With quick balances, you can see what's in your account without having to log in.
Seriously reduced fees
Volt banking members (age 19-24) qualify for half-off fees. Sometimes things happen and we're here to protect you from expensive fees while reminding you that it does pay to keep track of your account.
For instance:
Overdraft Transfer Fee - $2.50 (regularly $5)
Out of Network ATM Fee - $1.50 (regularly $3)
Courtesy Coverage Fee - $17.50 (regularly $35)
Free ATM Access
Your Volt Banking debit card will let you use 30,000 CO-OP ATMs for free. And if you're really stuck, fees for out of network ATMs are reduced to just $1.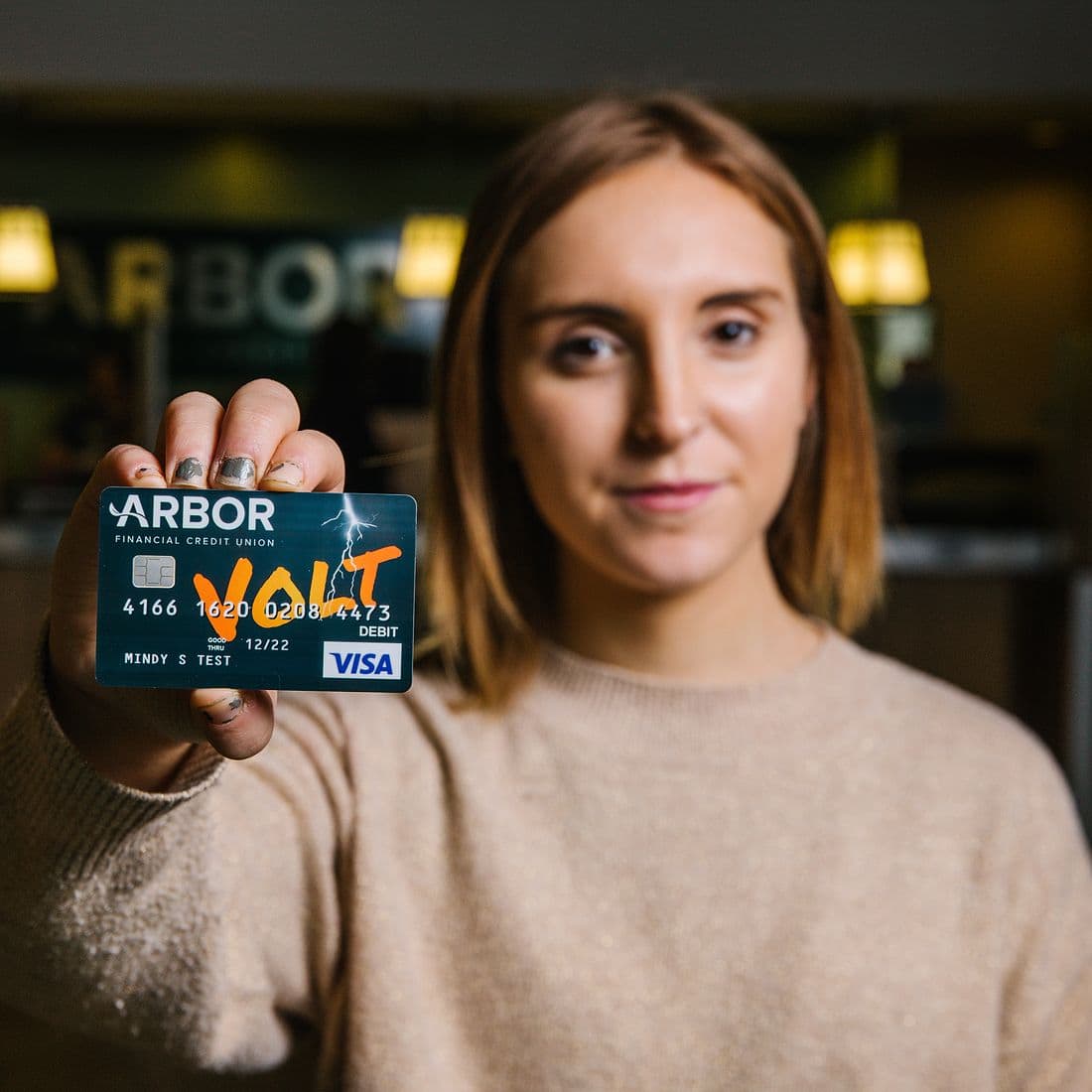 Volt Credit Card
At 18, Volt members can apply for a Visa Rewards Credit Card. It starts with a credit limit up to $1,000 and a low-interest rate while letting you build rewards points that don't expire.
There are many benefits to getting a credit card early such as having time to build your credit, and learn the difference between a credit and debit card in action.
Here are some tips to keep in mind for using credit cards for beginners:
Pay your bill before it's due so you don't incur interest charges.
You can use it to cover minor emergencies as long as you make your monthly payments on time if you can't pay it off in full.
If you don't use it correctly, you can get in trouble with your account which isn't a good way to start your credit foundation.
A credit card is different from a debit card because you borrow against your balance and have to repay it vs. a debit card which deducts from the cash you have in your account. You want to practice spending using both and experience how they impact your finances.


Frequently Asked Questions
Looking for more?
Student savings accounts allow college students to build their savings while earning interest on the balance. You can make deposits manually or set up automatic deposits and withdraw funds to manage your financial needs.

Yes, savings is a valuable and necessary financial skill that should be practiced in high school, while in college and beyond. Since many college students are already on a tight budget, having a small emergency fund to handle unexpected expenses that pop up can keep you from calling your parents for the money or seeking out a credit card or payday loan to cover the costs.

College student savings accounts are different because they tend to be more flexible to fit college students' lives. This means potentially coming with extra benefits, such as having no minimum balance requirements and no monthly fees.

Yes. Student savings accounts are a great way to build an emergency fund, safely store extra cash, and practice good financial habits while in college.
*Annual Percentage Yield (APY). The rate of 3.00% APY applies to balances up to $1,000 on Volt banking Savings accounts. Terms and conditions subject to change.
Zelle and the Zelle related marks are wholly owned by Early Warning Services, LLC and are used herein under license. Must have a bank account in the US to use Zelle.
*For Bronco Bash Official Rules, click here.