We've all been there: you're at an event, traveling, or just on the go, and you need some cash, plus an ATM. However, you want access to your cash without paying ridiculous ATM fees. Who wants to pay money just to access their account? Luckily, as a member of Arbor Financial Credit Union, you belong to a CO-OP ATM network that provides a solution to this pesky problem.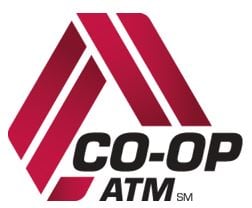 What is the CO-OP ATM network?
The CO-OP ATM network offers nearly 30,000 surcharge-free ATMs to members. How do you know it's a CO-OP ATM? Look for the logo! Credit Unions that are connected by the CO-OP are linked with other credit unions nationwide. This network is larger than almost any banks'. As a result, you get convenient access to your money with Arbor Financial wherever you travel. This even includes locations where you do your shopping, like Circle K, Costco, and Rite-Aid.

30,000 ATMs in the U.S.
117 ATMS outside of the U.S.
7,500+ deposit accepting ATMs
1,969 credit unions in the ATM network


How are these ATMs located?
With access to locator tools and CO-OP ATM signage for easy spotting, participating ATMs in the network will be able to be located with ease. With minimal clicks and searching, this hassle-free experience gives you immediate access to your accounts.


1. Download the app in the App Store or Google Play by searching "COOP ATM Shared Branch Locator."

2. Use the locator feature on the CO-OP website.
3. Call 1-888-SITE-COOP (888-748-3266) to find a site by phone.

4. Text any ZIP Code to 91989 to find a nearby CO-OP ATM.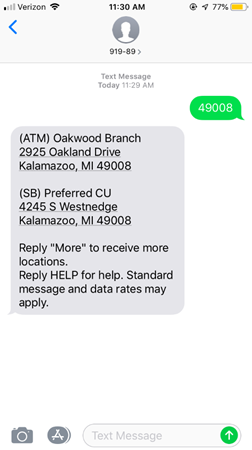 5. Visit Arbor Financial's ATM page to access a searchable map.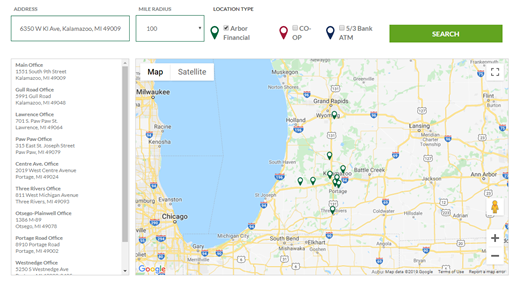 Need help? Give us a call at 269-375-6702 or 800-442-7340.