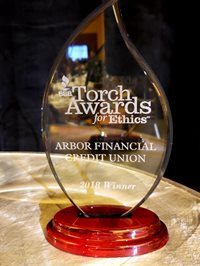 Arbor Financial Credit Union was one of six organizations honored by the Better Business Bureau of Western Michigan with the Torch Award for Ethics, during a ceremony at the J.W. Marriott in Grand Rapids.

The Better Business Bureau explains that the award honors organizations which operate ethically, and highlights their outstanding efforts to inspire other organizations to follow their lead.

"Arbor Financial is not just a place to 'bank', it's an organization that treats all with dignity and respect, helps make peoples dreams come true, and looks for a win-win for the member and the credit union (not just how something may affect its 'bottom line') … which truly demonstrates its high values and ethics." said (now retired) Director of Human Resources Terri Graham, who nominated Arbor for the honor.


Torch Award recipients were chosen based on six criteria:
Leadership's commitment to ethical practices

Internal and external communication to build and maintain an ethical culture

How their vision/mission statement is put into practice

How an organization implements best management practices and encourages employees to pursue and develop expertise in their area of responsibility

Human resources' commitment to prepare and provide opportunities for growth, and

The organization's community support and service activities.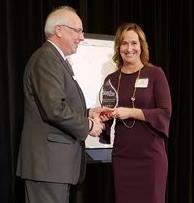 "It was an honor and privilege to accept the Torch Award for Ethics on behalf of Arbor Financial. Receiving the award is a wonderful tribute to all of you, our great culture, and the trust we've built with our members and each other," said Arbor Financial President and CEO Julie Blitchok.

The award makes Arbor Financial the first credit union to be so honored by the Better Business Bureau, and only the second financial institution, after Huntington Bank was honored in 2017.

Rest assured, we will continue our outreach into the community, our charitable giving, dedication to service and volunteerism, and our focus on our members into 2019 and beyond.