Work hard, Do the Right Thing, and Have Fun has been our Core Values for several years. Our staff has the dedication to work diligently, has the heart to do the right thing, and are willing to enjoy the moment in life and have fun. Working, living, and operating under these Core Values has earned us West Michigan's Best and Brightest Companies to Work For Award, making this our fourth consecutive year. We are proud to have been named one of the winning businesses but, we would not have been able to claim the title if it weren't for our outstanding staff.

What is the Best and Brightest Companies to Work For® Competition?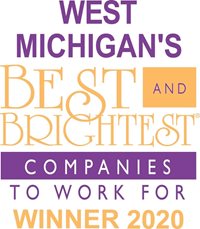 West Michigan's Best and Brightest Companies to Work For competition identifies and honors organizations that display a commitment to excellence in their human resources practices and employee enrichment. Organizations are assessed based on categories such as communication, work-life balance, employee education, diversity, recognition, retention and more.
Love Where You Work!
Arlene Horton, Vice President of Human Resources, recently celebrated her 31st year as a dedicated, loyal, and hard-working employee of Arbor Financial Credit Union. When asked about her thoughts regarding our fourth consecutive award with the Best and Brightest, she said, "I am so proud to be able to say I work for a company that has been honored The Best and Brightest Companies to Work for Award for the past four years. Organizations in West Michigan and nationally are reviewed on a variety of areas, including, but not limited to, work-life balance, communication, recognition, and much more." She continued, "celebrating my 31st anniversary at Arbor Financial Credit Union within the last few weeks, my dedication, work ethic, and much more does not go unnoticed at Arbor Financial, and that certainly makes the time here so rewarding and enjoyable. I love what I do and look forward to going to work every day."
The Benefits of Working at Arbor Financial Credit Union
As an organization, we assist members in reaching their goals through innovative financial solutions. As an employer, we assist our employees in more beneficial ways than you can imagine. We offer outstanding benefits along with exceptional career growth opportunities. Some benefits include paid birthdays off, paid volunteer and community hours, flexible work hours ranging anywhere between 37 to 40 hours weekly, competitive compensation, 401(K) matching up to 4%, with a 6% automatic profit-sharing contribution. Other benefits include discounts to businesses like RX Optical, Verizon Wireless, AT&T Wireless, and discounted tickets to Western Michigan University sporting events and Miller Auditorium. Also offered are free wellness benefits, including monthly wellness challenges, department versus department challenges, free fitness classes and gym sessions at local gyms, free wellness tracking, and remote classes. All these amazing offerings and benefits that Arbor Financial provides were factored into our fourth consecutive Best and Brightest Award.
Our Values and Commitments
Making that commitment to balance work life and personal life has always been a priority in Arbor Financials' guidelines. A company that understands the importance of one's life, family, and career is the best mixture for positive work culture. Work and family don't always have to be separate. Values and family culture within our offices are important and prominent, but we also value our fellow coworkers' families as well. Many family events are hosted for staff, employees, their children, and spouses. All are always welcomed and encouraged to join. Having this be an option has had such a positive impact on employees and families.

Employees that value their company, their members, and their coworkers is all Arbor Financial has strived to achieve. Diligently working on giving back in ways that are unique, thought out, and in the best interest of their members and employees, Arbor Financial understands how dedicated their staff is, and they understand what it takes to keep a diligent, reliable, and adaptable employee.

Understanding employees and their craving for growth is one of Arbor Financials' greatest strengths. Internal sourcing and upward mobility are constantly revolving. Our board and executives work tirelessly to hire the best employees they see fit for reasons like internal development. When new positions arise, they are always presented to employees first, giving the opportunity for internal development. Also, continuously offered are education opportunities to attend seminars, webinars, college courses, and conferences focused on one's career, position, and interests. This allows an opportunity for education, growth, and success all in one place.
Our Promise
Excited for the future at Arbor Financial Credit Union, we are proud to have earned a spot on West Michigan's 2020 Best and Brightest Companies to Work for list again. We promise to assist our members in achieving their dreams through innovative financial solutions. We always put our members first, but our employees are just as important, and this award reassures that.