My husband and I recently completed the construction of our lake & retirement home. As the Mortgage Lending Manager, I'm very familiar with how the construction process works and wanted to share our story in case other members are out there considering a construction project and can glean some insight from our experience.

We started thinking about remodeling the existing cottage well over three years ago. We made drawings of what we wanted the cottage to look like. I spent hours on Pinterest looking at ideas and dreaming big. Word of caution, say Pinterest to a builder and you will get the look of "oh no not again"! We met with our builder at the cottage and told him our ideas. He told us that remodeling was not wise and would be very expensive. My family was heartbroken, especially our oldest daughter as she is a history buff. Preserving the old cottage was very important to her. My husband's grandfather purchased the property and moved an old school house to the lake in 1941. The thought of tearing down the cottage was a very difficult decision. My husband and I talked and decided that even if we tore down the cottage, we would still have wonderful memories and pictures. Prior to the cottage being torn down, we removed some of the old windows and floorboards. Our daughters are painting beautiful flowers on them to hang in the cottage. They are also making signs out of the old stair boards. Pinterest is a wonderful thing! We also found an old iron bed and wood bed in the walls that we will be using in the new cottage.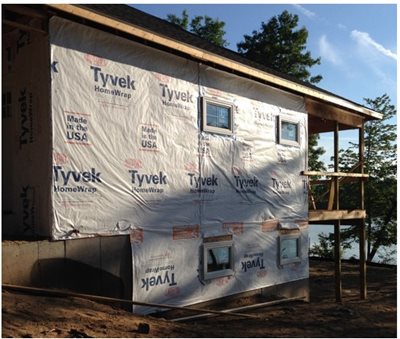 The decision was made and plans were drawn up. We closed on our Arbor Financial Credit Union construction loan January 5. I'm not ashamed to say I shopped my construction loan around because, at the end of the day, I'm still a consumer looking for a good rate and great service. I chose our credit union because of the one-time closing and the fact we only have to pay interest payments until the house is finished.
We had a move in date of July 15. Word to the wise, move in dates are not set in stone. I have learned one thing in this process that I want to pass on, you must have patience. I have a type A personality; I want things done correctly and I expect it to be done on time. My husband, on the other hand, is laid back and has patience. I think that is the reason we will celebrate our 36 th wedding anniversary in September; we complement each other. Our contractor had some trouble with the county issuing a septic permit and then it snowed. We had a light winter up until we were ready to begin construction. As you build, keep in mind the old adage "If something can go wrong, it will".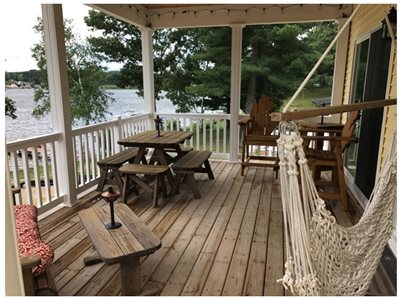 So, we have a move in date on paper. What would any woman do? Purchase furniture! I figured it is January and we get to move in July and furniture will take at least six to eight weeks to make. Boy was I wrong. The furniture was done in four weeks and now had to be stored. The store will store it for six months free and then we have to pay a monthly charge. Guess what, on August 28th, our home is not complete and we will be paying storage charges. Good thing my husband is patient with me! It is just so exciting building a new home. You get so caught up in what you want it to look like and you just can't wait to buy all of the lovely things that make it your home.

Some issues have come up with the well and septic and will require additional funds. When we talk to other people that have built homes, this seems to be the running theme. You need to keep that in mind and make sure you have some funds of your own for the unexpected changes and costs. When your Contractor sets up the construction budget, not every hidden cost can be known. I know that our Contractor has been doing this for many years and is very good at what he does, but some issues do not show up until the building has commenced.


We have been assured by our contractor that the cottage will be complete in just four more weeks. We will get to celebrate our anniversary there. My purpose in writing this is not to give you terms, rates and the ins and outs of a construction loan, but to give you some sense of the emotional ups and downs you will go through. The day we closed on the loan was very exciting. Every couple of weeks we drive two hours to take pictures and see the progress. Some weeks it seemed like nothing happened and we would drive home a little depressed. Keep in mind that we are not building a primary residence. I cannot even imagine what someone building a primary residence goes through when construction is delayed. Make sure that you have a good support system around you. Chose a builder that you can communicate with and is responsive to your needs and concerns. Don't take everything too seriously. You can drive yourself and your family crazy with each setback. Dream a little and look at Pinterest (don't tell the contractors I told you to do that). Take a lot of pictures and build a scrapbook; I am using Snapfish. When it is all done, you will have your dream home and something you and your family will enjoy for many years to come. Enjoy the process!